In earlier posts we've covered the audience development and search trends that publishers should be paying attention to. So, what about social media?
Of course, this field is undergoing constant change. From platform updates to emerging networks and evolution in audience behavior, social media is, and always will be, in a state of constant flux.
But which social media changes are nice-to-know and which have the potential to significantly impact your efforts?
Recently, we went through a host of fresh industry studies and analyst reports to identify the current social media shifts that truly matter.
What we found are these four big trends that publishers of all sizes should be watching closely:
Facebook's News Feed Changes Are Significantly Impacting Referral Traffic
What's happening: A few years ago social media overtook search as the primary driver of external traffic to publishers' sites. However, in 2017 things started to shift back, and as an analysis by Shareaholic shows, by the beginning of this year social's share of visits had dropped dramatically.
The reason for this is clear: Facebook. The social network has explicitly said that it has been tweaking its News Feed algorithm to prioritize "meaningful social interactions" over "relevant content" (get the full story of that move here). While the impact of these changes have been uneven, with some sites seeing big drops and some seeing none at all, the overall effect is clear: social is now responsible for a much smaller share of referrals.
Why this matters for publishers: When social's power as a traffic driver was surging, audience development became largely about finding the most effective ways to reach users on various networks. The moves made by Facebook are a good reminder that publishers should focus on a wide-range of different approaches beyond social media.
Social Media Behavior Increasingly Varies Between Different Generations
What's happening: A Pew Research survey published earlier found that 73% of US adults use YouTube, 68% use Facebook, and less than 35% use all other social networks.
At first glance this would suggest that the bulk of audiences can be reached via only a couple of platforms. However, if you dig deeper into the data it becomes apparent that there are major differences in which networks are favored by various generations. Specifically, the researchers found younger adults, age 18-to-24, are much more likely to be use platforms such as Snapchat, Instagram, and Twitter compared with younger adults.
A separate Pew survey found American teenagers have even more starkly different social network preferences, with 35% saying they use Snapchat most often, 32% saying YouTube, 15% saying Instagram, and just 10% citing Facebook.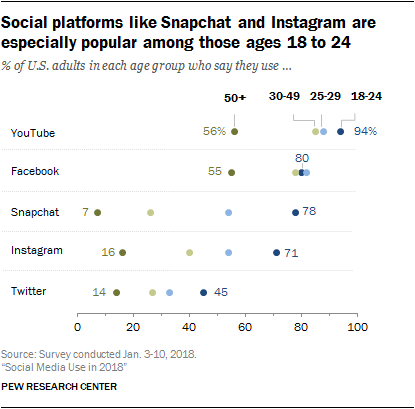 Why this matters for publishers: The big differences in social platform preferences among generations highlights that who you are targeting matters deeply. While certain networks are the most-used overall, if you are trying to reach specific audiences — especially younger ones — it is likely that you'll need to adjust which channels you are engaging on.
Social Messaging Apps Have Become Incredibly Important to Audiences
What's happening: In her annual Internet trends report, Mary Meeker, General Partner at Kleiner Perkins, made it a point to highlight an often overlooked social media phenomenon: messenger apps.
As Meeker noted, these apps have been growing astonishingly quickly, and at least three — WhatsApp, WeChat, and Facebook Messenger — already have a billion or more monthly active users.
What important to note is that this is just the beginning: the meteoric rise of messaging apps is expected to continue well into the next decade.
Why this matters for publishers: An analysis of social data by BuzzSumo found that 65% of content sharing may now be "dark", meaning that it happens one-to-one via platforms such as messaging apps rather an via news feeds. This is massively important for publishers as it means rethinking everything from where pieces are posted to how sharing is encouraged.
User Base Growth Is Slowing for Social Networks in Established Markets
What's happening: In July, Facebook lost $145 billion in market cap because of its weak daily active user numbers.
The problem wasn't that the social network was losing users, but rather that its growth had stalled: in 2Q18 Facebook increased its overall daily active user base by 1.5%, compared with 3.4% the previous quarter. The cause for this slowdown was developed markets: the daily active user base was flat in the US/Canada region and declined in Europe.
And this trend was not unique to Facebook: Both Twitter and Snapchat have reported recent struggles with user growth.
Why this matters for publishers: When it comes to social media, the sky is by no means falling. Facebook, Twitter, Snapchat and their peers remain immensely popular and have become integral to modern life. However, publishers can no longer bank on seeing increases in social referral traffic simply because networks are growing wildly. This is why focusing on emerging sources of engagement, such as Google Chrome's Articles for You and smart speaker news digests, is becoming vitally important.
The research highlights that social media is maturing and evolving: Platforms are adjusting the post types they favor, different audiences are starting to gravitate towards different channels, messaging apps are cannibalizing some traditional engagement, and overall growth is slowing.
Then comes the question - How to grow traffic from Social Media?
In order to continue to continue to grow traffic, publishers will need to take these trends into account and evolve their tactics. This will require 3 key steps:
Utilize your publisher analytics effectively to track your social media acquisition patterns, measure engagement quality & audience relevance for YOUR particular business model

Understand audiences' behaviors/interests from each social channel - for example, If you are a general news publication, traffic from Twitter might be interested more in Politics while Instagram referred users may be more interested in Fashion & Lifestyle.

Armed with the above insights, Tailor your Social Media posts, positioning and tone to cater to those topics & interests on each respective channel. This increases social engagement on the social media platforms, magnifying reach & traffic

Lastly, despite the temptation to do so, publishers will have to remain vigilant about not relying too much on one single traffic source such as social and instead should cultivate audiences across the many channels they utilize.
Related reading: How you can diversify traffic sources to avoid distribution shock